Jörgs Motorcycle pages: Navigation and GPS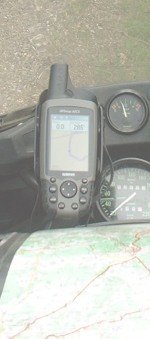 This page is summarizes some notes and ideas about navigation, in particular using GPS. Most of it is related to my own experience and to the instrumentation I use (at present a Garmin unit).
I like maps. Paper maps.
I have been successfully navigating with paper maps for more than 20 years and they are still my primary and preferred means to plan a trip. While I have been "playing around" with various GPS receivers (GPSr) in the past, it was only in 2006 that I acquired such a unit with the accompanying map software.
For me, a GPSr does not replace the map. A GPSr does not give you the "big picture" and it cannot match the flexibility of a plain old paper map. During a ride, I still keep a map at hand, since I like to have some information about the region that I'm riding through - e.g. topography ... and in addition, I simply like the touch and feel of paper :-)
However, a GPS does one particular thing that no map can do: It tells you where you are. It locates you on the map.
While this may not be important on well-marked roads or in areas that you are familar with, it can become important in completely unknown area, an unknown city, or at night. A GPSr with a "moving map" display gives you a very good idea of where you are, and whether or not you are approaching e.g. an intersection. In addition, it gives you the "bread crumb" trail of where you have been. Add to this features such as the calculation of the estimated time of arrival, which can be very useful - think catching the ferry.
Originally, I was looking for a GPSr mainly since I wanted to be able to re-trace my way after a nice trip. The use of the GPSr as a "real" navigational aid was intended only for particular occasions - either when I could not use the map easily (at night or in a downpour), or when I needed to get to a certain address in an unknown city. Yet this has changed quickly with the use of maps that support routing: I use it frequently - not to say "almost always" - for navigation, even if I have thoroughly outlined the trip before. More on this below.